GET MEETINGS STARTED QUICKLY
The 55" interactive display, the AVW-5555, features an integrated, high-quality conference camera with a microphone array and audio optimized for use with UC platforms, including Microsoft Teams, RingCentral, and Zoom. It allows teams to start meetings quickly and easily without the need for third-party peripherals, making it a true all-in-one solution.
SIMPLE.
Type-C connectivity connects your chosen device to the display to deliver 4K video, audio, touch, Ethernet, and power through a single cable.
With Avocor GroupShare, IT admins have control of the displays' user interface. It can be customized with your favorite productivity apps and URLs for one-touch launching. Starting a meeting has never been so simple.
SECURE.
Avocor displays are built for deployment in Enterprise and Government organizations. By not having a built-in operating system such as Android, Avocor displays can be locked down, with no onboard storage, or built-in Wi-Fi.
Avocor GroupShare comes preconfigured for Microsoft Enterprise customers. Users are able to sign in to their personal Microsoft 365 accounts via a QR code on the display. Simply scan to gain access to personal calendars and Microsoft OneDrive, allowing users to launch meetings and content quickly and securely.
INTELLIGENT.
The all-in-one display has a built-in 1080p camera, beam forming microphone array and a 40-watt sound bar for all your video conferencing needs.
The W55 also benefits from built-in sensors that connect to Azure loT Digital Twins to measure environmental data, allowing real-time adjustments and future planning.
Building a solution
Take The Weight Off Your Shoulders
The Avocor AVW-5555 is a versatile product that works straight out of the box. Place it on the wall or on a rolling cart to easily move it between spaces. If you're looking for additional compute and security capabilities, we have you covered. Adding an Intel® powered GroupShare™ interface couldn't be easier. Book a demo below and we can talk you through the solution.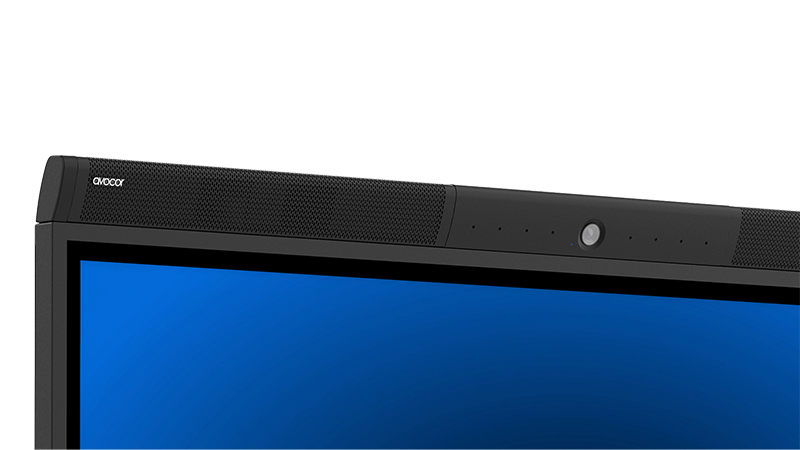 Avocor AVW-5555
Product features

20 points of touch
Utilizing the latest InGlassTM touch technology for true collaboration experience. Four people can write on the display at a single time, making it ideal for ideation.

Type-C connectivity
A single cable connects 4K video, audio, USB touch, Ethernet and power. The single Type-C cable solution delivers a frustration free-user experience to get meetings started quickly

Encryption-level security
Encryption-level security using Azure Sphere. Azure Sphere is a secured, high-level application platform with built-in communication and security features for internet-connected devices.

Power saving
Built-in sensors turn the display on when you're in the room and off when you're not.

Versatile display
Designed for huddle spaces, focus rooms, corporate offices and home offices.